beibehang 3d flooring 3d wallpaper
3d flooring European luxury gold rose marble soft parquet tiles self-adhesive PVC wallpaper mural Beibehang
Description:
Charge Unit: Yuan/Roll
Feature: 3D
Feature: Mildew Resistant
Feature: Extra Thick
Feature: Self-Adhesive
Feature: Water Resistant
Feature: Environment Friendly
Feature: Formaldehyde-free
Function: Moisture-Proof
Function: Waterproof
Function: Smoke-Proof
Function: Sound-Absorbing
Function: Soundproof
Function: Anti-static
Function: Mould-Proof
Function: Heat Insulation
Use: Elders' Room
Use: Living Room
Use: Kids' Room
Use: Kitchen
Use: Study
Use: Bedding Room
Use: Wedding House
Model Number: customize 3d flooring
Surface Treatment: Embossed
is_customized: Yes
Usage: Entertainment
Usage: Administration
Usage: Household
Usage: Commerce
Brand Name: beibehang
Vinyl Wallpaper Type: Paper Back Vinyl Wallpapers
Style: Europe
Pattern: Leaf
Type: Vinyl Wallpapers
Material: EPP
Pattern: Yes
note:
It is a custom PVC self-adhesive waterproof non-slip mural. We must produce according to your exact size (length and width). You must be aware of all the details before purchasing the product. In order for you to get what you want.
Please place an order by referring to the following calculation method: for example, your floor has a width of 2.5 meters and a length of 3 meters. When calculating, increase the length and width by 0.05 m. Area: (2.5 + 0.05) m * (3 + 0.05) m = 7.77 square meters. You need to buy 8 square meters when you place an order.
Please write the exact wall or floor size below the order or leave a message in time. After we get the size you confirmed, we usually ship within 3 days. If you do not provide us with the detailed custom size below the order within 24 hours, we will customize the pvc self-adhesive wallpaper according to the following default sizes.
The website price is only 1 square meter, and any size floor mural is suitable for the entire model. Custom wallpapers are made up of many parts. This is not a complete wallpaper. It will be divided into many parts so that it is suitable for international shipping. Please consider before buying, thank you!
There is glue on the back of the mural, you don't need to buy any glue or paste. Simply peel off the backing paper and apply a mural on the floor or wall.
We are not responsible for any import duties, thank you!
If you need 5 square meters mural wallpaper, please choose quantity " 5 " here.
Quantity 1 : 1 square meter=140cm(L) x 70cm(W) (4'3" x 2'3") ft
Quantity 2: 2 square meter=200cm(

L) x 100cm(W) (6'5" x 3'2") ft
Quantity 3: 3 square meter=208cm(

L) x 146cm(W) (6'8" x 4'8") ft
Quantity 4: 4 square meter=200cm(

L) x 200cm(W) (6'5" x 6'5") ft
Quantity 5: 5 square meter=250cm(

L) x 200cm(W) (7'6" x 6'5") ft
Quantity 6: 6 square meter=300cm(

L) x 200cm(W) (9'8" x 6'5") ft
Quantity 7: 7 square meter=300cm(

L) x 250cm(W) (9'8" x 8'2") ft
Quantity 8: 8 square meter=400cm(

L) x 200cm(W) (13'6" x 6'5") ft
Quantity 9: 9 square meter=350cm(

L) x 260cm(W) (11'4" x 8'7") ft
Quantity 10: 10 square meter=360cm(

L) x 280cm(W) (11'8" x 9'2") ft
Quantity 12: 12 square meter=400cm(

L) x 300cm(W) (13'6" x 9'8") ft
Quantity 16: 16 square meter=500cm(

L) x 320cm(W) (16'4" x 10'5") ft
>> Show product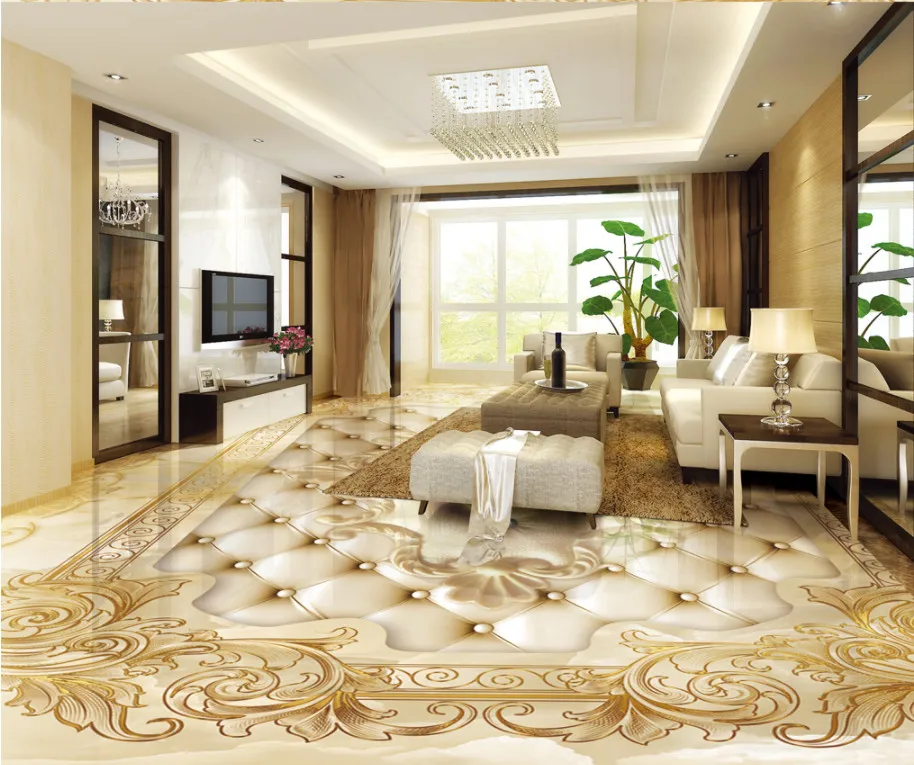 >> Product Description
Clean the ground and make sure it is smooth and flat.

Check the size of mural and match the pattern. (There is about 1cm overlapping part.)

According to the width of each panel of wallpaper, mark the vertical lines on the ground.

Peel off the bottom paper sticker of the first panel.

spray a layer of foam water on the surface.

Paste it on the ground and use a knife to cut out excess part and use a towel to clean up the surface.

When pasting the second panel, be careful to match the pattern of wallpaper. And on the middle of overlapping part, use a ruler and knife to cut excess part and peel them off.

Use a scraper to make the wallpaper flat. Then use a towel or sponge to wipe the surface.

Contact us

Please DON\'T leave negative or neutral feedback if you haven\'t received item in 30 days, It is better to let us know the problem by SENDING US MESSAGE, we will resolve it and let you be satisfied.

If you have any questions, concerns, welcome to contact us. We will respond within 24 hours, in most

cases sooner. We work 7 days a weeks.

Please leave positive feedback and 4-5stars. Thank you.